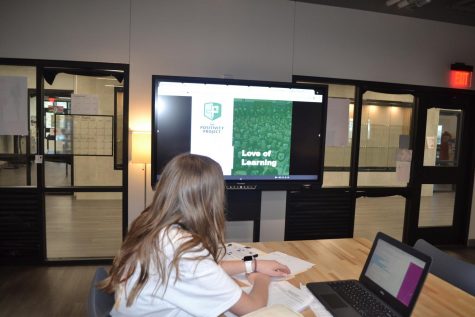 Positivity Project, also known as P2, started last school year and has continued throughout this year.  The main idea is to spread positivity, help students become better people, and help people do the right thing.  But does P2 help, or does it deplete much-needed free time?
"I don't like P2 because it takes up time and is boring, plus I can't do work while listening to it," 7th grader Emma Stiles Carter said.  "It could be useful if people actually listened to it, but almost no one does."  
P2 takes up the whole 30-minute period of flex, which can cause trouble for people who have missing assignments to do in the class after flex, or just work in general to do.
"I feel like they teach the same thing each year, and we could do more productive things.  I would change P2 into a time to learn about recent and relevant news that could actually impact us," 7th grader Ben Hungerford said.
Although P2 could be argued that it is useful by some, many people think that P2 is just outright pointless.
"It takes up time.  There is no point, it is not useful, and no one likes it," 7th grader Cooper Pack said.  "I would make it not as long."
Instead of learning about certain characteristics, which most people already know anyways, we could do many different things that relate to us instead of making P2 feel like an endless weekly vocab session with no break.
"I would replace P2 with watching videos and letting people talk and communicate with each other.  It doesn't really do as it is intended for, and is pretty boring," 6th grader Jett Kerr said.  "You don't even learn anything."